I wish I could tell you I had a good reason why.
Anyway let's use the GPT-2 345M model to recreate the viral (but not real) "I Forced a Bot" tweets that I named this site after… but with a trained model based on Star Trek.
I was going to do many different training materials and cover more of the original viral tweets, but the Star Trek Olive Garden Commercial samples are just killing me by themselves. I honestly think I could do nothing with GPT-2 but generate Olive Garden commercials from different models and never get bored. It deserves it's own post!
You are seeing a random sample. Click SHOW ANOTHER SAMPLE to see more. (You can also copy and paste your browser address to share a link.)
Yellow Text is the prompt.
Link to this sample
If you want to screenshot, on Windows, the built-in snipping tool makes it easy! Start->snip.
Context for this post.
See What Is This Site or tldr: a bunch of tweets went viral purporting to be written by bots, of which the Olive Garden one below was the most famous: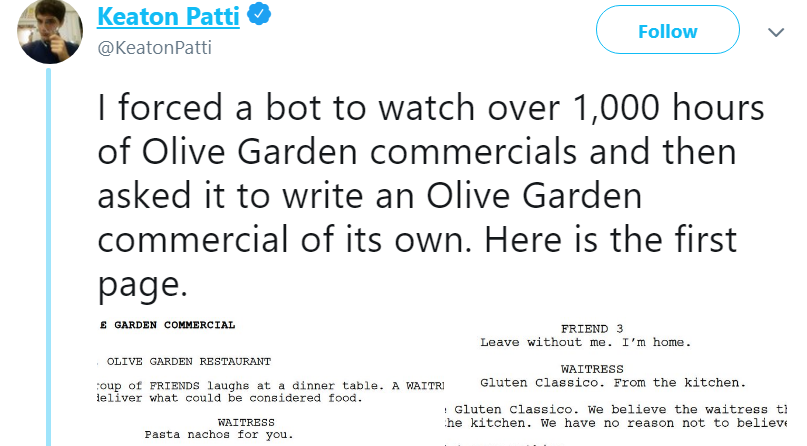 I experimented with some other prompts from the tweets too, so you might fine a few in there.
Update 1:

Link to some complete Star Trek scripts (where I keep generating until it literally says THE END on a line).